Study Reveals Most Popular Late-Night Fast Food Chains
Taco Bell remains the most popular fast food chain for late-night snacking, according to a new study.
The beloved chain hits the spot more than McDonald's, Wendy's or KFC, according to a study of 1,001 fast-food fans by Mattress Advisor.
But while Taco Bell's casual Mexican-inspired menu is the overall favorite restaurant, in terms of cuisine, burgers and fries are the most common object of Americans' evening cravings. Half of the list's Top 10 spots are occupied by burger joints.
Restaurants that are open 24/7, like Denny's, Waffle House and IHOP also performed well in this survey of night owls, since access is half the battle.
KFC might have the most devoted group of fast food fans.
Mattress Advisor found that hungry people were willing to go on average 24 minutes out of their way to get a bucket of fried chicken. By comparison Taco Bell customers said they were only willing to travel about 13 minutes.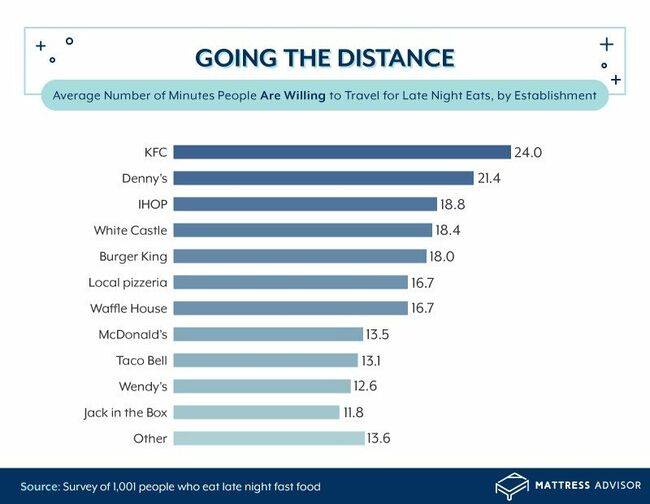 But all this information begs the question: why are people eating late at night?
There are a few reasons provided by Mattress Advisor, and Taco Bell is the tops for people who are eating late because they've been drinking, because they're feeling down and because they're just plain addicted to fast food.
People who just can't sleep prefer McDonald's over Taco Bell and Wendy's combined. The study also notes it's probably easier to find the golden arches than any other chain, since a new one opens every 14.5 hours.
Eating right before bed won't do you any favors in the restful sleep department, as studies have shown. There are other drawbacks, too, including headaches, depression and higher risk for heart disease or stroke among people who eat fast food regularly.
Mattress Advisor also found that most late-night snackers woke up regretting their meal. People who went out of their way to find a chicken spot regretted it 82.5 percent of the time.
Read the full study here.
Photo: Getty Images