Christina Aguilera & Demi Lovato Break Free In 'Fall In Line' Music Video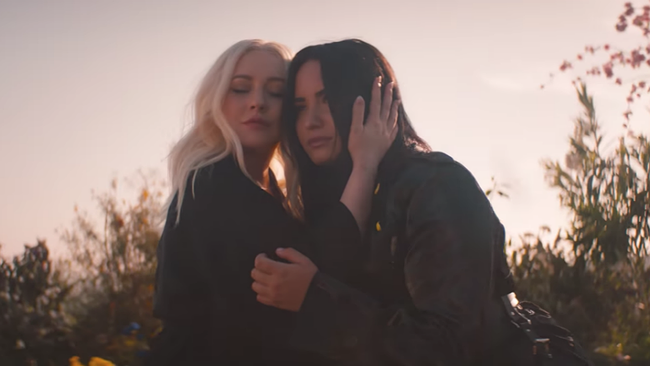 If you were confused about the premise of Christina Aguilera and Demi Lovato's performance of "Fall In Line" from the 2018 Billboard Music Awards on Sunday night (May 20), then the video for the mega-pop ballad might just help shed some light on the concept as the pair seemingly shade the music industry.
Directed by Luke Gilford, the almost five-minute clip begins with two little girls in a sunny field. It's not long before the sun is gone and the pair is taken underground, where viewers see the present day Aguilera and Lovato in matching outfits and afront several camera setups. Alongside faceless guards, the pair is forced to sing, but all is not what meet's the eye. After performances, they are put away in cages, only to bypass the patriarchy, break the barriers and escape from the prison. Even though the execution is a little muddled, the poetic symbolism is true, with each singer having a fairly similar professional upbringing by the Disney machine.
"It's just the way it is/ And maybe it's never gonna change/ But I got a mind to show my strength /And I got a right to speak my mind," the two stars belt during the chorus. "And I'm gonna pay for this/ They're gonna burn me at the stake/ But I got a fire in my veins /I wasn't made to fall in line /No I wasn't made to fall in line."
"Fall In Line" is the latest track off Aguilera's new album, Liberation, which drops on June 15 and features the previously released "Accelerate," featuring Ty Dolla $ign and 2 Chainz. Expect the star to perform the track when she embarks on her upcoming "Liberation Tour," her first North American trek in a decade!
Photo: YouTube/Christina Aguilera